C is for Cardinals Game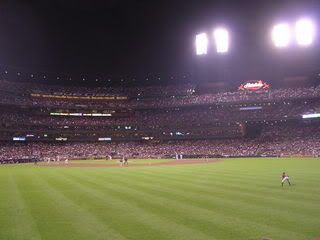 Went to see the Cardinals play the Astros last night and had an absolute BLAST. Our seats were in the bleachers and I had never sat there before. The picture above was our view of the field. Not too bad.
My sister's friends have season tickets, so they have grown to know all the other season-ticket holders around them, as well as the beer vendor that frequents the section. The picture below illustrates what a dedicated vendor he is to their crowd.
That's him, pouring a vodka cranberry for one of the girls in our group, which he went to fetch from a nearby stand. Don't try this with your own beer vendors, folks. This one is just particularly loyal to this group. :)
And the game itself was super exciting, as Albert came through to "wing da gang" in the bottom of the ninth inning with a two-run hit. We were screaming and hugging each other. It was one of the more exciting games I'd been to.
Afterwards, we went up to a bar at the stadium that stays open after the games to have another drink and listen to some fun tunes. Here's me and one of Jen's friends dancing to "Walkin on Sunshine" (I didn't know that this picture was taken until this morning):
Overall, a very very fun night. :)